POPGUN VOLUME TWO!!! - 22/08/2008
The 1st of August saw Image Comics release volume two of the graphic mix tape known as Popgun; a diverse and sophisticated spectrum of work sure to attract new readers and infect mainstream pop culture with comics.

In Store Now; 460 Pages; $29.99

Featuring work by : Joy Ang, Anjin Anhut, Gabriel Bautista, Benito Cereno, Nikki Cook, Ming Doyle, Frank Espinosa, Joe Flood, Ancor Gil, Yeray Gil Hernandez, Vassilis Gogtzilas, Brandon Graham, Dan Haspiel, Dan Hipp, Josh Hoye, James Kochalka, Erik Larsen, Paul Maybury, Derek McCulloch, Christian Nauck, Ralph Niese, Ryan O'Hara, Ryan Ottley, Paul Pope, Jamie S. Rich, Jim Rugg, Ronald Salas, Claudio Sanchez, Mark Smith, Chris Stevens, Sheldon Vella, Barnaby Ward, Matthew Weldon, Derek Yu, Marley Zarcone and many, many more.

This amazing collection of work also features some sweet coloring work by some comic shop guy named Dylan McCrae. So here is a special little nine page preview

- Dylan

art : Brandon Graham
colors : Dylan McCrae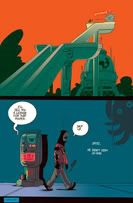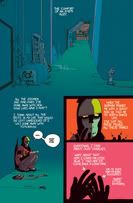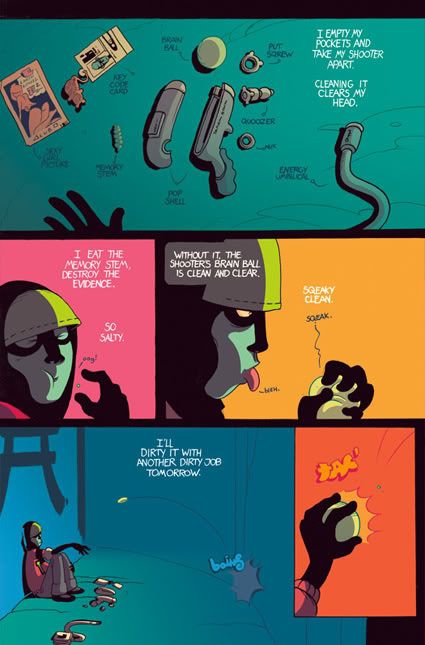 (Read More)


POPGUN VOLUME ONE!!! - 15/11/2007
Here is a special little eight page preview of something I've been working on whilst not working at the comic shop. Its from a rad little story called "PINAPL" which is written and drawn by Corey "Rey" Lewis', of Sharknife and Rival Schools fame, with colours provided my fine young self. It will see print in Image Comics upcoming graphic mixtape Popgun Volume One later this month, so if you like what you see let us know as soon as possible and we will hook you up with your much needed Popgun fix.

For more information click here, for more previews check out SatelliteSoda, IGN, MySpace, Newsarama and Comic Book Resources.

In the meantime, enjoy!

- Dylan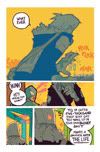 (Read More)


DC To publish World Of Warcraft Comics - 25/07/2007
Just in case you haven't heard - here's DC's

"Official Press Release"

New York, NY – DC Comics, the world's largest English language comic book publisher and home to Superman, Batman and Wonder Woman announced plans today to publish a new comic book series based on World of Warcraft®, Blizzard Entertainment®'s popular massively multiplayer online role-playing game (MMORPG). Preview art from the series will debut at Comic-Con International, held in San Diego, CA from July 26–29. The World of Warcraft comic book will be published through DC's WildStorm imprint and debut this fall. (Read More)


In memoriam - 6/09/2006
Only realised how much this guy did for other people after his passing.
Take care big fella.
May the force be with you. Always


Monsters Fighting Monsters in The Cemeterians - 4/03/2006
Who better to fight monsters than monsters? In The Cemeterians by Gilgrim, SLG's newest comic book series, readers will learn that the answer to that seemingly-rhetorical question is "Nobody." A rag-tag group of monsters and misfits led by a sexy mad scientist, the Cemeterians must keep the world safe from evil-doing baddies. But will they drive each other crazy in the process?

For Gilgrim, The Cemeterians is all about having a good time. "It's basically a big excuse to draw a Halloween-styled world where monsters and other weird creatures can hang out and have fun doing all the weird and wonderful things that the monsters in my heads would actually do in such a place," he said.

The Cemeterians might disagree with their creator's idea of "fun," however. In their adventures in their eponymous comic book, Marla, Jack, Franklin, Thadius and Caitlin spend their time slogging through sewers, poking through graveyards, generally finding themselves in the last place anyone who values their life, limbs, sanity and personal hygiene would want to be. Marla is the slightly crazy brains of the Cemeterians, Franklin the naïve and good-natured abomination of nature that she created, Jack her crotchety dark sorcerer older brother. Rounding out the crew are the siblings' apprentices, Thadius, a quiet, reluctant monster, and Caitlin, a brash Irish lass descended from a banshee.

The Cemeterians will be released bi-monthly, beginning in May 2006. It is available for pre-order now through comic book stores. To see a preview, visit SLG Publishing's website, www.slgpublishing.com.


Oni Press Announces Borrowed Time - 22/02/2006
Oni Press is pleased to announce the debut of BORROWED TIME, a dramatic new series of mini graphic novels by Neal Shaffer, the creative mind behind ONE PLUS ONE and LAST EXIT BEFORE TOLL. Mystery is at the core of this story that begins with a trip to the Bermuda Triangle and proceeds to get even stranger.

Taylor Devlin has a great life. He has a great apartment, a loving girlfriend, and a job that allows him to travel around the world. But when a writing assignment takes him to the Bermuda Triangle, his life takes a turn he could never have anticipated. Returning from a mysterious accident at sea he finds a different world than the one he left, and he finds himself with the challenge of getting back to the life he knew and the woman he loves.

"When most people approach the idea of something like the Triangle it's usually from one of two places," Shaffer explained. "It's either to explore it from a kind of sci-fi/conspiracy angle, or to debunk it. For me it's more philosophical than that. Like, 'what if it there really is something to it...then what?' That's where the story really starts.

"From there it's really a non-scientific take on the idea of time as a concept that's not absolute, and through that I try to get at the human side of such a situation. I mean, imagine the dread of realizing that you've slipped into a world that's just a few seconds away from what you had come to know and love, but those few seconds may as well be years, decades, forever?" (Read More)


Planet Hulk is a Smash! - 12/02/2006
Retailers and fans agree, PLANET HULK is a hit. After just one issue, this epic story destined to return Hulk to greatness, is being hailed as an instant classic, a legendary storyline that comic fans will be talking about for years to come! Echoing those feelings, the first issue of this epic – Incredible Hulk #92 – has sold out at Diamond!

This is the biggest Hulk story to come about in years, and it looks like it's exactly what the fans and retailers wanted! Don't take our word for it, here's but a few examples of the universal praise this story is earning:

"PLANET HULK is the first great 'Hulk Smash' epic of the 21st Century!" - Carr D'Angelo, Earth-2 Comics

"Customers can't get enough of this tale, which brings mystery, suspense and action back to Banner's alter-ego. It's like a Gamma Bomb to our racks, the way stacks of this comic are being decimated." - W. Alan, Silver Bullet Comics

"I've been looking forward to this since it was first announced. Apparently, our customers have been, too, as it's already selling well ahead of our projections!" - Chris Powell, GM of Lone Star Comics / mycomicshop.com

"Believe the hype! I admit I was a hard sell myself but our customers have spoken with authority and with only one day on the racks, Planet Hulk has already outsold every other Hulk issue from the last six months. Thanks Marvel." - Robert Scott, Owner Comickaze Comics Books and More

"The Hulk is finally good again! Fan-HULKING-tastic! This is the new, fresh Hulk story I have been waiting on for years. Must Have!"- Hilary Goldstein, IGN

"HULK SMASH PUNY COMIC WORLD! 'Nuff said!" -Steven Olsen, Little Shop of Comics


This is one series you don't want to miss! There are no plans at this time to go back to press on the first issue, and this epic event will not be collected until the last issue has been released, and that is a long time to wait! So, be sure to add this title to your monthly pull list. Don't be left out! In other words:

"This is gonna be fun!" – Hulk, Incredible Hulk #92


Colour Patty-Cake Trade in March - 14/01/2006
In March 2006, SLG Publishing will bring the humor and fun of Scott Roberts's beloved comic book Patty-Cake and Friends to readers in full color, with the publication of the Patty-Cake and Friends Color Collection. This 96-page trade paperback will reprint stories from Patty-Cake's early years in full color.

SLG Publishing began publishing Patty-Cake and Friends in 1997, and now the series about a rambunctious little girl and her friends at school and in her neighborhood is the longest-running title in SLG's all-ages Amaze Ink Comics imprint. Always light-hearted, fun and smart, Patty-Cake and Friends is a comic in which creator Scott Roberts strives to show life from the point of view of a seven-year-old.

"It's as honest and uncensored as I can make it," Roberts said. "It has a rubbery art style, and swings between broad humor and occasional sentimentality but always strives for the truth. Childhood, warts and all." (Read More)


SLG Publishing Announces 2006 Toy and Collectible Releases - 9/01/2006
In celebration of five years in the toy business, SLG Publishing announced an ambitious toy program for the first half of 2006 for its division Monkey Fun Toys. Products range from vinyl and plastic toys, plush toys and limited edition statues, most based SLG Publishing titles and characters.

March of 2006 will see the release of Mummy, a vinyl and plastic toy based on the Mummy character from the SLG comic book The Super Scary Monster Show featuring Little Gloomy. Not the disease-ridden, shambling bunch of bandages of most pop-culture depictions, the Mummy figure is playing his bass guitar and generally having fun. The Mummy comes complete with bass guitar, spooky bass amp and his own faux-stone platform. Designed by Little Gloomy artist Eric Jones and sculpted by Mitch Martinez, the Mummy is the perfect accompaniment to our popular Carl Cthulhu figure. Packaged in a four color window box. Suggested retail price will be $29.95 US. (Read More)


Shipment Update - 6/01/2006
The New Year's public holiday has delayed the importation of this week's comics and cool stuff. (The shipment originally due on 6th January, and currently displayed in our site's What's New section).
They will be arriving on Monday 9th January - and of this I am sure. Unless our courier's van explodes or something.
Like if our courier's warehouse is erased in some post-crisis-zero-hour-one year later reality correction.
But that seems highly unlikely.


Page 7 of 51

< Prev 1 2 3 4 5 6 7 8 9 10 11 12 13 14 15 16 17 18 19 20 21 22 23 24 25 26 27 28 29 30 31 32 33 34 35 36 37 38 39 40 41 42 43 44 45 46 47 48 49 50 51 Next >
Shopping Cart
Catalogue updated on: 18/12/2018 at 14:12:32