Congratulations Dylan And Leila! - 14/01/2011
Longtime Graphic Actioneer Dylan and his lovely fiance Leila are tying the knot on Saturday 15th January!

Here's to the two of them spending a most awesome life together. ( *Glasses Chink!* )

In order to attend their nuptials and celebrate good times - Graphic Action will be closing a whole two (2!) hours early on Saturday 15th January - at 3pm!

We'll be open from 10.30am - 3pm this Saturday - apologies for any inconveniences, but we'll be open 10.30am - 3.30pm Sunday 16th January -(our regular Sunday hours) - if you planned to come in after 3pm on the weekend.

All The Best to Dylan and Leila!


Mailing List Excitements! - 3/02/2010
We've just noticed that a few of you haven't been receiving our weekly update product list emails of late.

Any problems - just re enter your email address at the bottom of the page - and we'll make sure you get the list of items arriving instore every week delivered straight to your inbox!


Online Ordering Update - 12/01/2010
UPDATE - 12/1/10 - Aha! We've fixed the problem! Orders should be all good to go on the site again! Thanks for all your patience, emails and calls!

Just a quick note to let you know we still haven't been able to resolve our problem with the online ordering system.

The database of items in the warehouse is all good - but for some reason - after checkout - the orders aren't being forwarded to us.

Feel free to email us (or phone through) any orders you wish to make - and use the ordering on the site as normal - as the database is working fine - but don't check out - just send us a copy of what you've ordered to fightboredom@graphicaction.com.au (or call 0249295717) - and we'll follow it up straight away!


2010 Opening Hours - 6/01/2010
Another year - another year of 7 days a week of Graphic Action Comics and Cool Stuff !

New Stuff every one of these 52 weeks (on Friday!)

Just in case you were unsure - here's our opening hours!

MONDAY 10.30am - 5.30pm
TUESDAY 10.30am - 5.30pm
WEDNESDAY 10.30am - 5.30pm
THURSDAY 10.30am - 6.00pm
FRIDAY 10.30am - 5.30pm
SATURDAY 10.30am - 5.00pm
SUNDAY 10.30am - 3.30pm

If they change throughout the year - we'll let you know.

We look forward to seeing you at Graphic Action in 2010!


POPGUN VOLUME TWO!!! - 22/08/2008
The 1st of August saw Image Comics release volume two of the graphic mix tape known as Popgun; a diverse and sophisticated spectrum of work sure to attract new readers and infect mainstream pop culture with comics.

In Store Now; 460 Pages; $29.99

Featuring work by : Joy Ang, Anjin Anhut, Gabriel Bautista, Benito Cereno, Nikki Cook, Ming Doyle, Frank Espinosa, Joe Flood, Ancor Gil, Yeray Gil Hernandez, Vassilis Gogtzilas, Brandon Graham, Dan Haspiel, Dan Hipp, Josh Hoye, James Kochalka, Erik Larsen, Paul Maybury, Derek McCulloch, Christian Nauck, Ralph Niese, Ryan O'Hara, Ryan Ottley, Paul Pope, Jamie S. Rich, Jim Rugg, Ronald Salas, Claudio Sanchez, Mark Smith, Chris Stevens, Sheldon Vella, Barnaby Ward, Matthew Weldon, Derek Yu, Marley Zarcone and many, many more.

This amazing collection of work also features some sweet coloring work by some comic shop guy named Dylan McCrae. So here is a special little nine page preview

- Dylan

art : Brandon Graham
colors : Dylan McCrae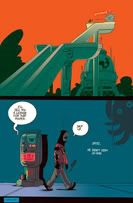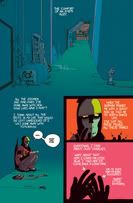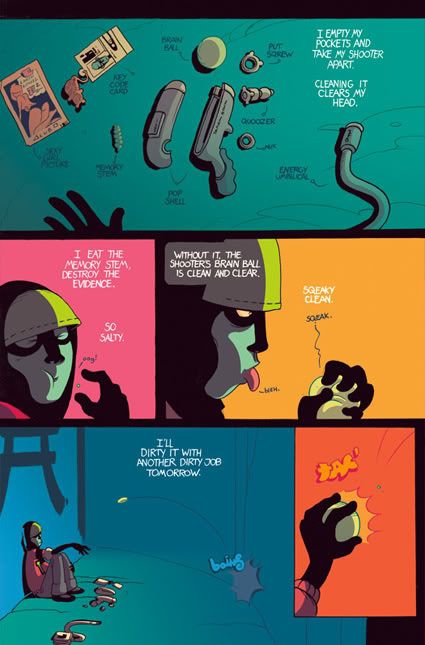 (Read More)


POPGUN VOLUME ONE!!! - 15/11/2007
Here is a special little eight page preview of something I've been working on whilst not working at the comic shop. Its from a rad little story called "PINAPL" which is written and drawn by Corey "Rey" Lewis', of Sharknife and Rival Schools fame, with colours provided my fine young self. It will see print in Image Comics upcoming graphic mixtape Popgun Volume One later this month, so if you like what you see let us know as soon as possible and we will hook you up with your much needed Popgun fix.

For more information click here, for more previews check out SatelliteSoda, IGN, MySpace, Newsarama and Comic Book Resources.

In the meantime, enjoy!

- Dylan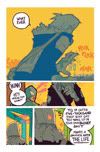 (Read More)


DC To publish World Of Warcraft Comics - 25/07/2007
Just in case you haven't heard - here's DC's

"Official Press Release"

New York, NY – DC Comics, the world's largest English language comic book publisher and home to Superman, Batman and Wonder Woman announced plans today to publish a new comic book series based on World of Warcraft®, Blizzard Entertainment®'s popular massively multiplayer online role-playing game (MMORPG). Preview art from the series will debut at Comic-Con International, held in San Diego, CA from July 26–29. The World of Warcraft comic book will be published through DC's WildStorm imprint and debut this fall. (Read More)


In memoriam - 6/09/2006
Only realised how much this guy did for other people after his passing.
Take care big fella.
May the force be with you. Always


Monsters Fighting Monsters in The Cemeterians - 4/03/2006
Who better to fight monsters than monsters? In The Cemeterians by Gilgrim, SLG's newest comic book series, readers will learn that the answer to that seemingly-rhetorical question is "Nobody." A rag-tag group of monsters and misfits led by a sexy mad scientist, the Cemeterians must keep the world safe from evil-doing baddies. But will they drive each other crazy in the process?

For Gilgrim, The Cemeterians is all about having a good time. "It's basically a big excuse to draw a Halloween-styled world where monsters and other weird creatures can hang out and have fun doing all the weird and wonderful things that the monsters in my heads would actually do in such a place," he said.

The Cemeterians might disagree with their creator's idea of "fun," however. In their adventures in their eponymous comic book, Marla, Jack, Franklin, Thadius and Caitlin spend their time slogging through sewers, poking through graveyards, generally finding themselves in the last place anyone who values their life, limbs, sanity and personal hygiene would want to be. Marla is the slightly crazy brains of the Cemeterians, Franklin the naïve and good-natured abomination of nature that she created, Jack her crotchety dark sorcerer older brother. Rounding out the crew are the siblings' apprentices, Thadius, a quiet, reluctant monster, and Caitlin, a brash Irish lass descended from a banshee.

The Cemeterians will be released bi-monthly, beginning in May 2006. It is available for pre-order now through comic book stores. To see a preview, visit SLG Publishing's website, www.slgpublishing.com.


Oni Press Announces Borrowed Time - 22/02/2006
Oni Press is pleased to announce the debut of BORROWED TIME, a dramatic new series of mini graphic novels by Neal Shaffer, the creative mind behind ONE PLUS ONE and LAST EXIT BEFORE TOLL. Mystery is at the core of this story that begins with a trip to the Bermuda Triangle and proceeds to get even stranger.

Taylor Devlin has a great life. He has a great apartment, a loving girlfriend, and a job that allows him to travel around the world. But when a writing assignment takes him to the Bermuda Triangle, his life takes a turn he could never have anticipated. Returning from a mysterious accident at sea he finds a different world than the one he left, and he finds himself with the challenge of getting back to the life he knew and the woman he loves.

"When most people approach the idea of something like the Triangle it's usually from one of two places," Shaffer explained. "It's either to explore it from a kind of sci-fi/conspiracy angle, or to debunk it. For me it's more philosophical than that. Like, 'what if it there really is something to it...then what?' That's where the story really starts.

"From there it's really a non-scientific take on the idea of time as a concept that's not absolute, and through that I try to get at the human side of such a situation. I mean, imagine the dread of realizing that you've slipped into a world that's just a few seconds away from what you had come to know and love, but those few seconds may as well be years, decades, forever?" (Read More)


Page 6 of 51

< Prev 1 2 3 4 5 6 7 8 9 10 11 12 13 14 15 16 17 18 19 20 21 22 23 24 25 26 27 28 29 30 31 32 33 34 35 36 37 38 39 40 41 42 43 44 45 46 47 48 49 50 51 Next >
Shopping Cart
Catalogue updated on: 11/12/2018 at 13:55:13